REPCO TRIAL 1979: The 'Repco Trial' of 1979 rekindled the memories of the Redex Trials of the 1950's. Starting from Melbourne, Victoria on the 5 August 1979, the rally route wound clockwise around the Australian continent for nominally 20,000km over fourteen days, finishing back in Melbourne on the 19 August. The prize money for the event was substantial for 1979, AU$50,000.00 in total with the winner guaranteed AU$14,000.00.
A wide variety of International Cars and Drivers took part. The media attention was heavily concentrated on the General Motors Holden entered #05: HDT Holden Commodore driven by Peter Brock and managed by then recent Holden recruit George Shepheard. Many experts suggested that 'Brockie', one of Australia's greatest touring car drivers, would be totally unsuited to outback rally driving, put simply he would be no match for the Rally and Safari drivers participating in the event. The Commodore's reliability as compared to Mercedes, Porsche, Volvo etc. was also in question, history records that Peter Brock won the event in '05' and Holden VB HDT Commodores finished 1,2,3!

#05: PETER BROCK: Touring car fans followed Peter's efforts with great interest and the media attention on him personally was huge. Incredibly Peter had just lost the 1979 Australian Touring Car Championship prior to the event and commented at the start that a leisurely 20,000km trip around Australia was just what he needed, to relax!
#05: BROCKIE AND CAR '05', INCREDIBLY THE TEAM WON AND HOLDEN COMMODORES TOOK THE HAT TRICK!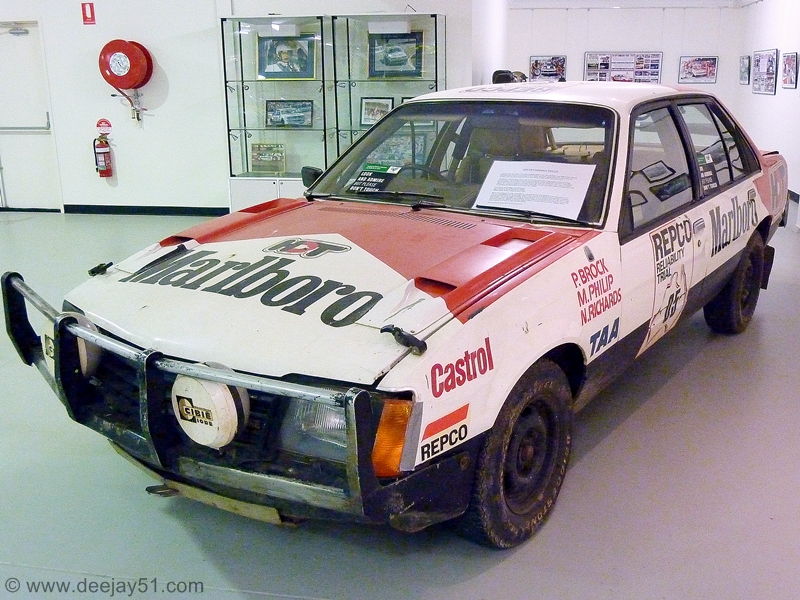 #05: THE REPCO TRIAL WINNING HOLDEN COMMODORE NOW PERMANENTLY ON DISPLAY AT THE NATIONAL MOTOR RACE MUSEUM IN BATHURST NSW.

#7: ROSS DUNKERTON: Volvo reliability, Australian Rally Driver Ross Dunkerton teamed with Colin Young and Peter McKay. Incredibly the team held third outright at one stage, suffered a few issues with the car and finished fourth outright behind the winning Holden Commodores and claimed first four cylinder car home and first in class in the two ~ three litre category.
Press records of the day quoted Dunkerton saying: 'we retired fifty five times but the Volvo was a very strong car and if we had prepared it with what we know now and a little more power I reckon we could have won the event'!
#7: VOLVO 244DL COMPLETE WITH LONG RANGE FUEL TANK. PLACED 4th OUTRIGHT.

THE PORSCHE 911 & 924: I love Porsche Cars, and there were two variants in the Trial, #1: PORSCHE 911 driven by Edgar Herman and navigated by Dean Rainsford, the other was #8: PORSCHE 924 driven by Porsche development driver Jurgen Bath and navigated by Roland Kushmaul.
#1: PORSCHE 911, EDGAR HERMAN AND DEAN RAINSFORD. PLACED 8th OUTRIGHT.
#8: PORSCHE 924, JURGEN BATH AND ROLAND KUSHMAUL. PLACED 9th OUTRIGHT
#8: PORSCHE 924, BRAKES MAINTENANCE

#: COLIN BOND: The Ford Motor Company Australia entered Colin Bond, Bob Riley and John Dawson-Damer team actually led the rally in Perth Western Australia but they rolled the car soon after. Records indicate the roll over prevented fitting a replacement windscreen properly, hence the liberal use of sealer and tape evident in the following main image.
#: COLIN BOND AND THE FORD CORTINA TE 4.1 LITRE RALLY CAR

#9: GREG CARR: Another Ford Motor Company entrant, Rally Driver Greg Carr also campaigned a Ford Cortina.
#9: GREG CARR'S FORD CORTINA TE 4.1 LITRE RALLY CAR WITH A SURPRISINGLY STANDARD LOOKING AIR FILTER HOUSING

#27: JOCK WILSON: A rather comfy Mercedes Sedan was entered by Autec Rallying, the Navigation aids looked great for the era.
#27: MERCEDES

THE HOLDEN FILES: Various pre Holden Commodore entrants...
#188: PETER WEBSTER'S HOLDEN FJ. ENTERED BY WEST AUSTRALIAN GMH DEALER 'WEBSTER HOLDEN'
| | |
| --- | --- |
| | |
| #207: HOLDEN FJ | #70: HOLDEN GTS MONARO, McCULLEN, GUYATT & KELLY |

CAR RALLIES CONTINUED: Please continue with my coverage of Car Rallies by selecting from the following...