PACKARD AND MERLIN POWER: Obvious really, take one giant Aero Engine of the day and slot it into a decent car chassis! Of course one imagines that there are limits, not here! This page is devoted to two massively over powered but nevertheless magnificent cars, a 42 Litre Packard powered fire breathing Bentley and a somewhat smaller capacity 27 Litre Merlin powered Rolls Royce.

PACKARD POWER IN A BENTLEY CALLED 'MAVIS': Forty two (42) Litres in a V12 configuration as used in a Second World War American Motor Torpedo Boat, just slot that into a Bentley Eight (8) Litre chassis and call the whole thing MAVIS! Chris Williams, yes the man that owns the Napier-Bentley, is responsible for this vehicle, Chris built the car over a seven year period at weekends and night time.
The Packard engine was developed before World War II by Jesse Vincent, Packard's Chief Engineer for use in Motor Torpedo Boats. Forty two (42) Litres configured as a V12 equates to 3.5 Litre cylinder displacement and the pistons were as big as 'coffee tins', the nickname stuck and the motor was widely known as the Packard 'Coffee Tin' Motor. The engine specifications included a centrifugal supercharger, a SOHC per bank, four valves and two spark plugs per cylinder. A four pole magneto ignition provided the spark.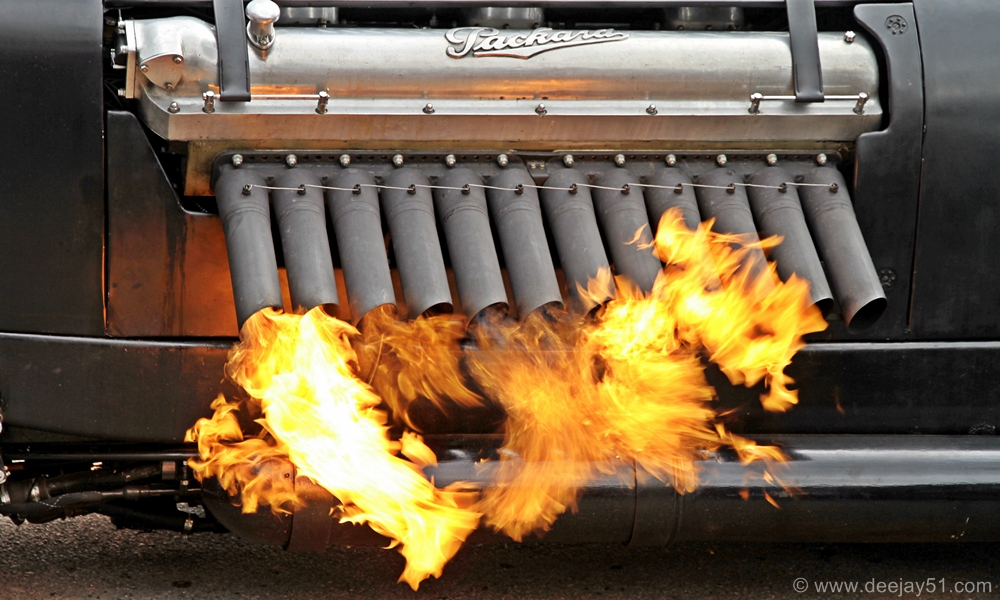 42 LITRE V12 PACKARD ENGINE BELCHING FIRE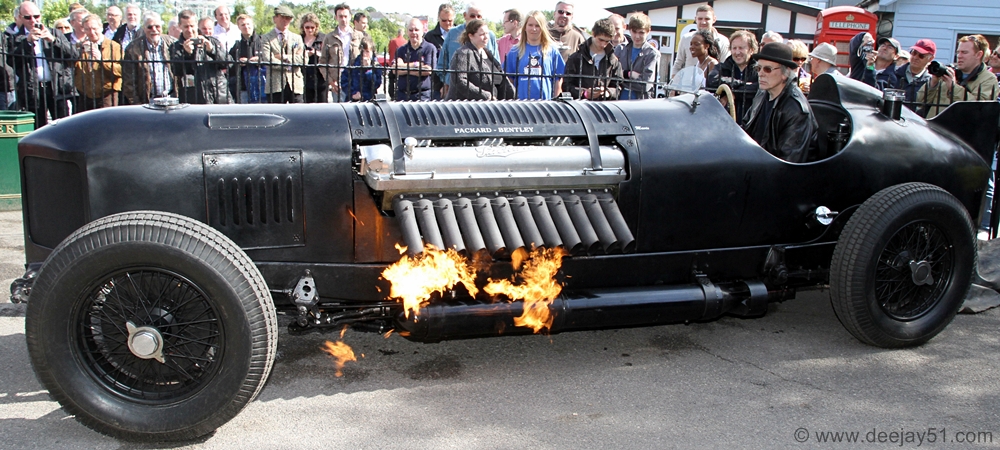 THE OWNER/BUILDER OF 'MAVIS', CHRIS WILLIAMS, WARMING UP THE BEAST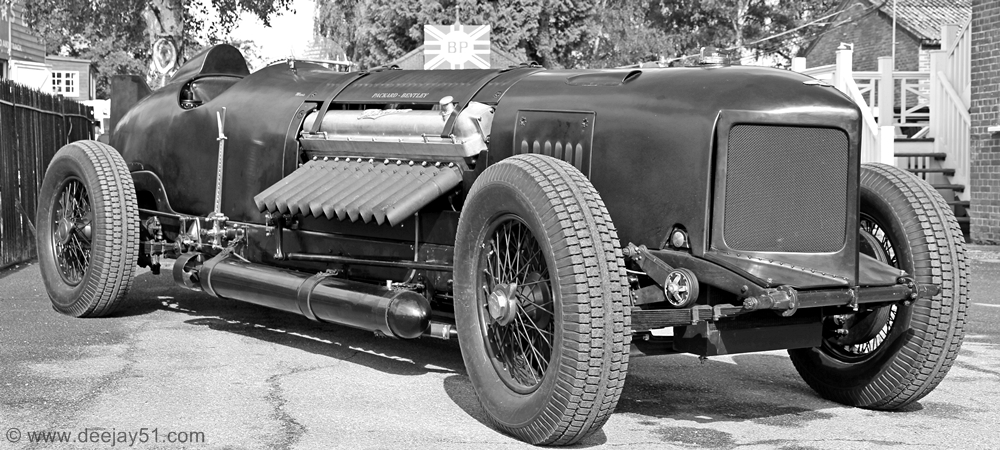 'MAVIS', IMAGE DIGITALLY ALTERED TO MONOCHROME
| | |
| --- | --- |
| | |
| THE V12 PACKARD ENGINE | NO MUFFLERS! |
THE 'MAVIS' DASHBOARD, NOTE THE BRAKE HORSEPOWER 'EMERGENCY' RED RANGE AND THE 'FIRE' (STARTER) BUTTON

MERLIN POWER IN A ROLLS ROYCE: There is nothing particularly unusual about Merlin and Rolls Royce being mentioned together, excepting when the engine is a whopping Twenty Seven (27) Litre Rolls Royce Merlin V12 professionally shoehorned into a 1930 Rolls Royce Phantom II chassis!
1930 ROLLS ROYCE PHANTOM II WITH A 27 LITRE V12 MERLIN ENGINE
| | |
| --- | --- |
| | |
| SCOOPS AND VENTS EVERYWHERE | IMPOSING REAR END AND HIGH EXHAUSTS |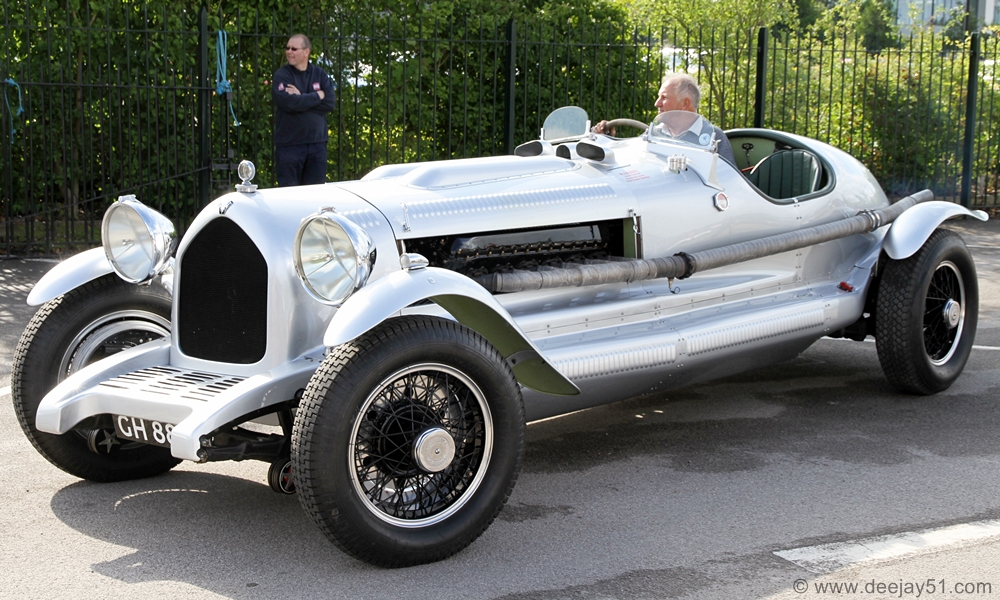 1930 ROLLS ROYCE PHANTOM II 'UNBRIDLED POWER'
1930 ROLLS ROYCE PHANTOM II 'BEAUTIFUL WORKMANSHIP'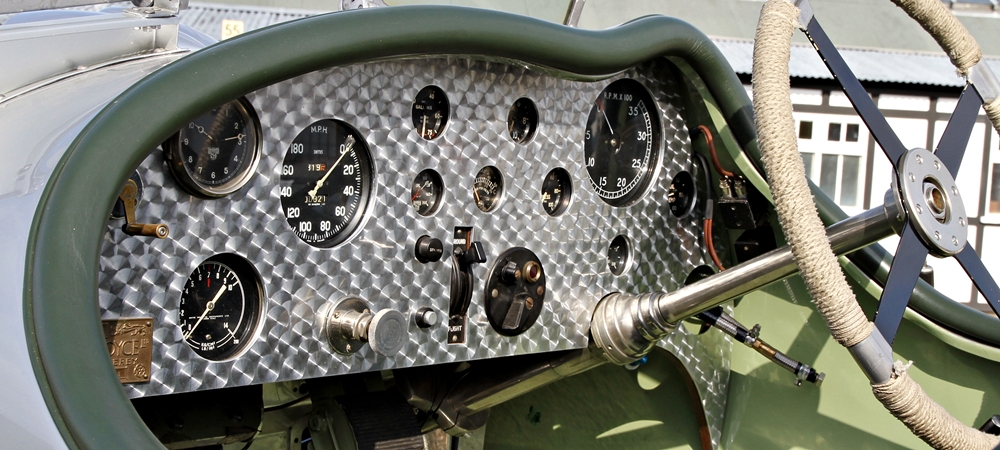 1930 ROLLS ROYCE PHANTOM II 'FLIGHT CONTROLS'

MORE BROOKLANDS COVERAGE: Please continue my 'Brooklands coverage' by selecting from the following pages...